Hey folks, in this article we are going to talk about WhatsApp vs Signal vs Telegram, in recent days we have seen some of the new policies introduced by WhatsApp due to which many of its users are moving towards Signal and Telegram. So, let's see the differences and what is better to use.
WhatsApp vs Signal vs Telegram
The new privacy policy has been updated by WhatsApp due to which it has encountered many of its users leaving this platform and going for the alternatives like Signal and Telegram. WhatsApp is owned by Facebook, and according to the new privacy policy, it is known that the user data can be accessed by many of the companies owning Facebook.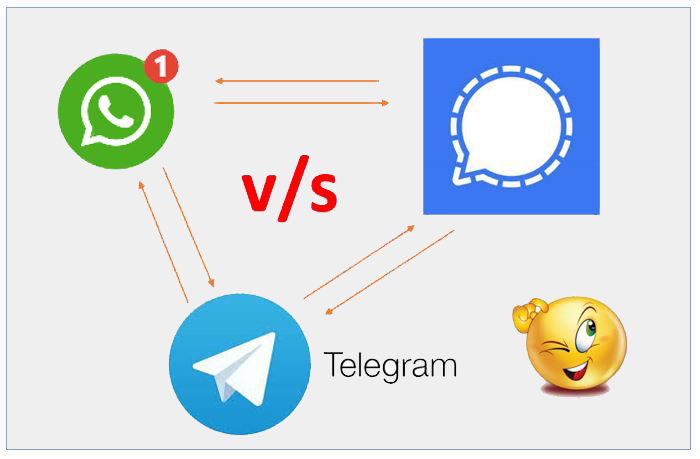 So, let's compare the features of all three platforms in order to get the best possible.
Why WhatsApp?
It is the most popular and the largest platform considered for messaging all over the world with a monthly active user of 2 billion owned by Facebook. It came in 2009 and ruled the world of social media. It has replaced normal messaging and also was a good alternative to skype. It involves everything that one should need as a social media platform. It has an app payment feature. It has both voice and video call features supported by both individuals and groups of peoples. It supports a group video call of 8 peoples at a time.
It has story features, popularly known as WhatsApp status.
It allows us to share all forms of documents like pdf, docs, but the size has a limit i.e., the maximum file size should be 100 MB.
It allows sending messages to multiple contacts at a time.
It allows a group chat of up to 256 peoples.
Photos and video media can be shared up to the max size of 16 MB.
It allows to restore or backup messages using services of clouds i.e., google drive or iCloud.
It has end-to-end encryptions i.e., the E2E technique which is used for communications like messages, video and voice calls, videos, and photos, or it can be any type of conversation between users.
The E2E protocol used by WhatsApp is developed by Open Whispers System.
Backups are not encrypted in WhatsApp whether it may be local or cloud.
Why Telegram?
The main advantage of using telegram is that it has unlimited server storage and also supports a group with a maximum size of 2,00,000 members. It has various types of channels very similar to groups in which the owner can decide who can send the messages into that channel. It supports multiple groups features that are very specific such as hashtags, quizzes, polls, bots, these are very extensive for large group's experiences.
It supports self-destructing messages, which means messages are deleted on their own after some point in time.
It supports a large size limit for sharing the files, the maximum limit is up to 1.5 GB, which is very large.
It supports both video and voice calls for both android and iOS device users.
It is popularly known for its large and massive groups.
It has the feature of media compressions.
It also supports ed to end encryptions technique i.e. secrets chat feature.
The company has confirmed that it doesn't share any bytes of data with any third party or any governmental bodies.
The group chats are not encrypted in a telegram, until or unless you use the Secret chats feature, but again it only supports single-user communication.
Why Signal?
Recently, it becomes the latest member of the community because of its privacy concerned, it only takes a mobile number for registration. It is available for all types of platforms i..e, Android, iPhone, etc. It offers voice and video calls, secure messaging with the end to end encryption feature. You can create groups and also it has added the feature of the group video call. But you can't broadcast messages to multiple contacts at a time.
It also supports self-destructing messages just like a telegram.
It allows voice calls relay, in which identity is not shared, just similar to using a VPN.
Implementing end to end encryptions uses an open-source signal protocol.
It supports a group of approx 100 peoples, and a total of 8 members can have a group video call at a time.
It also offers multiple levels of security and encrypts our metadata.
It uses an encryption service, i.e., back-end user-facing.
Signal offers communication in the most secure form over the internet. But the major drawbacks are that signal lacks a lot of features when compared to Telegram and WhatsApp. All the group calls are encrypted by a signal. It also encrypts all the local files by default with a 4-digit passphrase.
What are all data collected by WhatsApp?
The following is the list of data collected by WhatsApp.
User ID: It is basically a unique identifier, which is used by the platform when you logged in.
Device ID: It consists of numbers or letters that uniquely identify a particular smartphone all over the world. All smartphones have their own unique device ID.
Phone Number: It is a user's mobile number used for the registration on the platform.
Email Address: It is a user email address used for the registration on the platform.
Contact: All the user contact, which is stored in the user device.
Customer Support: All the support contacts from the user device.
Purchase History: It consists of all the transactions of the past made by the user from that app.
Payment Information: It contains all the necessary details which have been used for doing the payment like account number, UPI, etc.
Performance Data: All types of data used by the user.
Other content of users: Other content basically includes the background performance in the user device.
What are all data collected by Telegram?
The following is the list of data collected by Telegram.
User ID
User Contacts
Contacts Information
What are all data collected by Signal?
Signal only stores the user phone number and none of the data is being collected by it. This is the biggest advantage of signal because of its privacy concerns.
I hope this article has helped you all a lot in knowing the exact features of all the three platforms (WhatsApp vs Signal vs Telegram) with their detailed information, for such more exciting articles, stay connected.