Welcome back guys, in this module I will be talking about new features in Windows 11. The previous version or generation of Microsoft Windows was Windows 10, which was launched in July 2015. The next generation of Windows i.e Windows 11 has been released by Microsoft.
New features in Windows 11
The new Windows 11 has many new features. It has a new interface with new desktop wallpaper which seems to be more attractive when compared to Windows 10.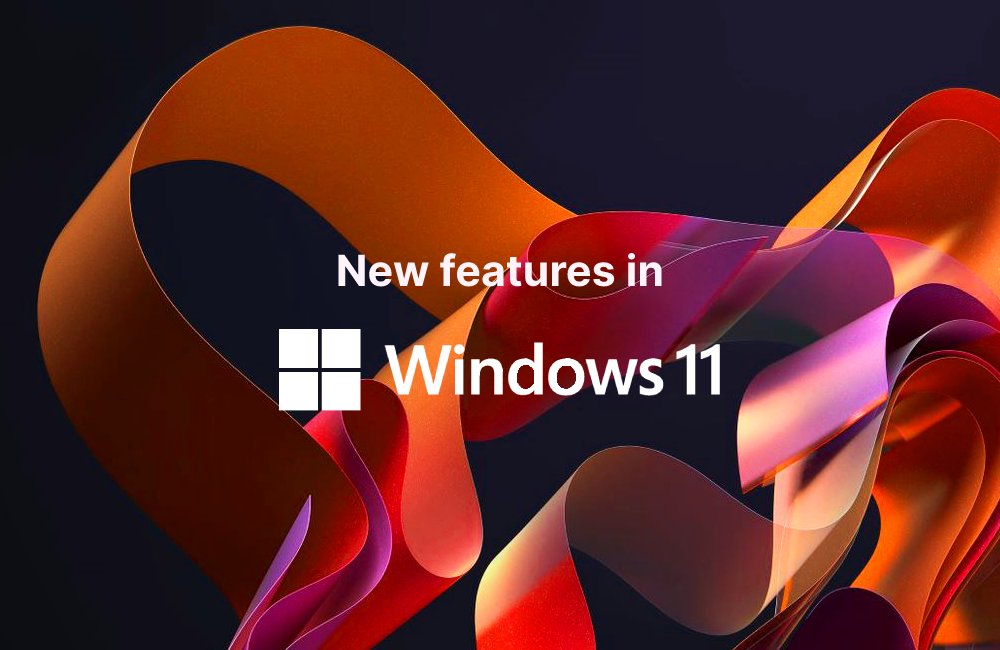 The Start menu is placed at the center of the taskbar and makes it easier to find what you're looking for fast. Start menu makes use of Microsoft 365 and cloud to display your recent files and applications regardless of what platform or device you were viewing them on previously, including Android and iOS devices. It also includes a search box so that users can then search the applications which they want. The menu's corners are rounded.
One of the most interesting and useful features of Windows 11 is the introduction of Snap layouts, Snap Groups, and Desktops. Using Snap layouts, you can open multiple different screens on your computer by just simply hovering your cursor over the maximize button. This gives a multitasking experience to the users. The groups created by the Snap layout are called Snap groups.
Windows 11 is also providing enhanced dark mode (that the developer community loves for programming in Python, Java, etc.) new wallpapers, themes, sounds, and notification alerts. Moreover, you will be getting updated widgets that give news, weather, and other information. With a swipe from left to right, it can be displayed across the entire screen. You can also add, remove or resize it according to your requirement.
Microsoft has integrated its video conferencing platform called Microsoft Teams in the taskbar, which includes a universal mute and unmutes feature to make virtual calls easier. Vertical tab functionality is also available in the Edge browser on Windows 11.
Microsoft has also improved its Microsoft Store by including more apps and new designs than Windows 10. There is a search bar that allows the users to discover the apps they want. Microsoft has also announced that they will be including third-party apps like Canva, Adobe Creative Cloud, Disney+, Zoom, and its apps like Teams, Notepad, Visual Studio. It will be for the first time that Android Apps will be included in the Microsoft Store, as announced by Microsoft. Now, users can download the apps and use them on the desktop itself, which they are using on their mobile. For this, Microsoft has incorporated the Amazon Appstore into the Microsoft Store.
If you enjoy playing games on PC, there is something for you as well. Windows has support for Auto HDR or automatic HDR for adjusting the lighting and color in games and DirectX 12 Ultimate. They have also provided direct storage to quickly load more detailed gaming worlds. Microsoft has also included Xbox games, which consist of many games for PC gamers.
Microsoft has also removed some of the features which were present in Windows 10 like the "Hi Cortana" welcome screen. There are no Live Tiles in Windows 11, which was seen in the Start menu of Windows 10.
How to download Windows 11?
When Windows 11 will be available, you can download it by following the steps given below:
Go to Settings.
Select Update & Security and then click on Windows Update.
Finally, click on Download.
Windows 11 Release Date
The next generation of Windows i.e., Windows 11 has been released for PC users on 24 June 2021 in a virtual event. Microsoft has stated that Windows 11 will be available for download to Windows Insiders by next week for testing purposes. Later this year, it will be available as a free upgrade for Windows 10 users, and it will be pre-installed on new PCs (Personal computer).
Price of Windows 11
Customers with Windows 10 will be able to upgrade to Windows 11 for free. This implies that if you have a valid copy of Windows 10 installed on your computer, you will be able to download Windows 11 for free. Windows 11 may, however, be costly for new installations.
Windows 11 System Requirements
To run Windows 11 on your personal computer (PC), you will require a 64-bit processor having 2 or more cores. Apart from this, it also needs a minimum of 4 GB of RAM and 64 GB of storage. In comparison, Windows 10 requires at least 1 GB of RAM and 16 GB of storage. Your PC should also have TPM (Trusted Platform Module) version 2.0. DirectX 12 graphics or WDDM2.x support is required on your machine.
How to check if my PC is compatible with Windows 11 or not?
Now, as a Windows user, you might be excited to install the new Windows 11 on your PC or laptop. But before installing it, you should check whether it is compatible with your Windows 10 PC or not. To check the eligibility for up-gradation of Windows, you can download the PC health checkup app.
(https://aka.ms/GetPCHealthCheckApp)
I hope you will find this post useful. After reading this, you might be excited to upgrade your Windows and use the new features of Windows 11. ️️️️️️But don't be too quick to do so. At least check whether your system is eligible for up-gradation or not, otherwise, it will lead to wastage of your time and efforts. Stay connected with us for getting more informative and exciting modules like this.